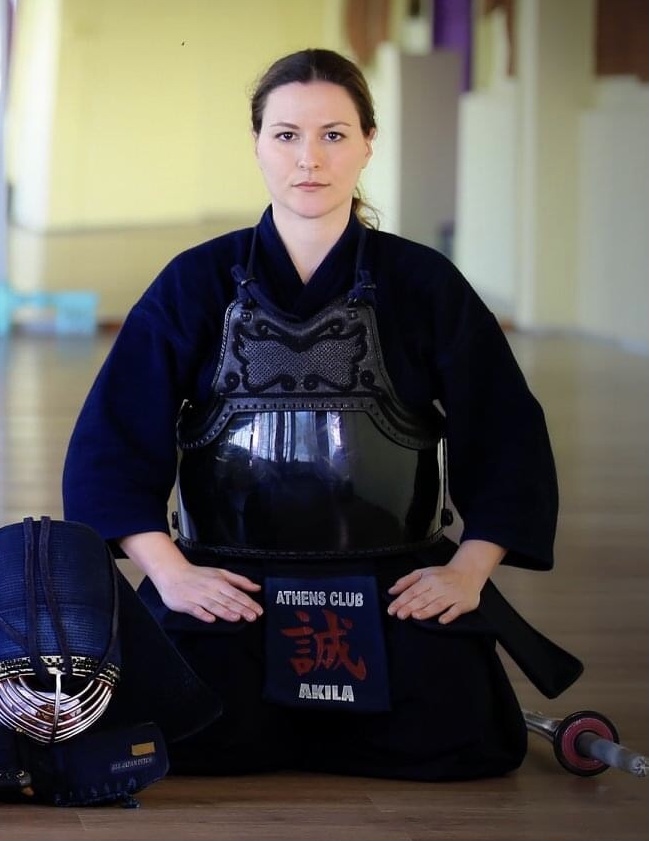 How old were you when you started kendo and why did you start?
I was 15 years old when I started kendo. I was already in a dojo that offered many martial arts and I was practicing Taekwondo and Kung fu for some years. At the same time my mother was practicing Kendo in the same dojo under the instruction of a young Japanese sensei from Tsukuba University. Back then I was watching the kendo trainings sometimes but I didn't have the time to also practice kendo. Although it no longer has a kendo department, during that period it was the first organized dojo with a Japanese instructor in my country. After some time the first kendo competition was organized by the dojo and dojos from all over Greece participated. I was assigned the task of announcing the shiai order with the microphone, so I was in a very good position to watch all the kendo shiai. At the end of the women's category my mother won the first place in the competition and it made me extremely proud. Her achievement motivated me to start kendo.
In the beginning it took me a couple of years to focus and practice harder in kendo but eventually I gave up other martial arts and I dedicated myself entirely in kendo.
What do you find attractive about kendo?
Kendo for me is a very unique Martial art. From the culture and history of the samurai to the kendo training and all the challenges you meet along the path, I have realised after having experiences from other sports and martial arts, that there is nothing quite like the experience and the journey that kendo offers.
Personally what I find most attractive about kendo is its competitive character. You will fight and keep fighting along the way. You will always find struggles and weaknesses in yourself and you will always strive to develop and progress. Every keiko, every shiai and every shinsa is a new lesson and although you will keep progressing there will always be a new level to achieve or there will always be a time where you will need to go back and fix something. What I love about kendo also is that as your skill develops also your personality and mindset develops. Kendo brings you into a state where you have to reflect into yourself and decide if you want to develop your inner strength, and if you achieve it then your kendo skills will also develop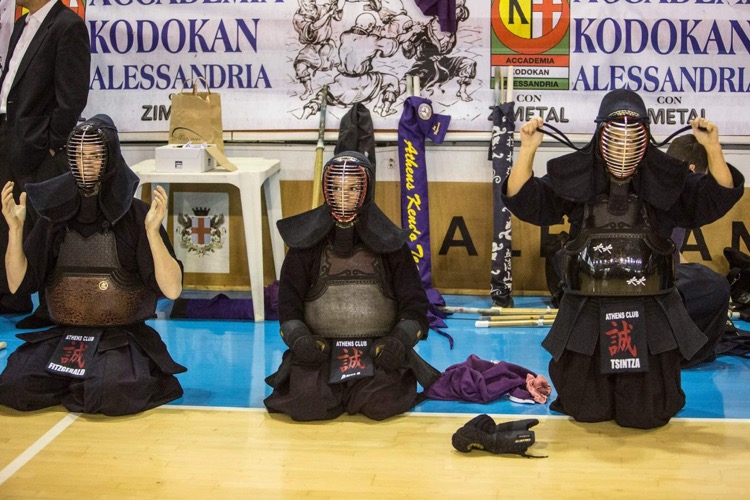 Is there anyone in your family who plays kendo?
Yes my mother, Antigone Tsintza, also practices kendo before me. She has brought Greece the first international kendo medal and was a member of the national team. She is the instructor at our dojo, Athens Kendo Club and also the coach of the Greek national women's team.
Have you participated in any world championships? Have you won any prizes in European competitions?
I have participated in three World Kendo Championships (Novara 2012, Tokyo 2015, Incheon 2018) and I have been awarded the fighting spirit after reaching the quarterfinals of the women's individual category in Incheon 2018.
I have also won second place in the European Kendo Championship 2017 and third place in 2019 and two fighting spirit awards in 2011 and 2014. I am also 14 times Greek champion in the individual category and 5 times with my team Athens Kendo Club in the team category of the Greek Championship. I've also won international taikai across Europe such as the Alessandria Kendo Trophy, the French Open, the Hungary Cup, the Belgrade Cup and the London Cup.
What did you feel after participating in world and European competitions?
I felt very proud and honoured to be able to represent my country in the biggest events of kendo. Whenever I have achieved my goal and taken a medal or an award I feel very happy and complete.
When it doesn't happen I feel disappointed but it always gives me a stronger motivation to keep training when I come back home.
Those events as well are about friendship, communication and exchange, it's a great experience and whatever happens I always return home with a positive feeling.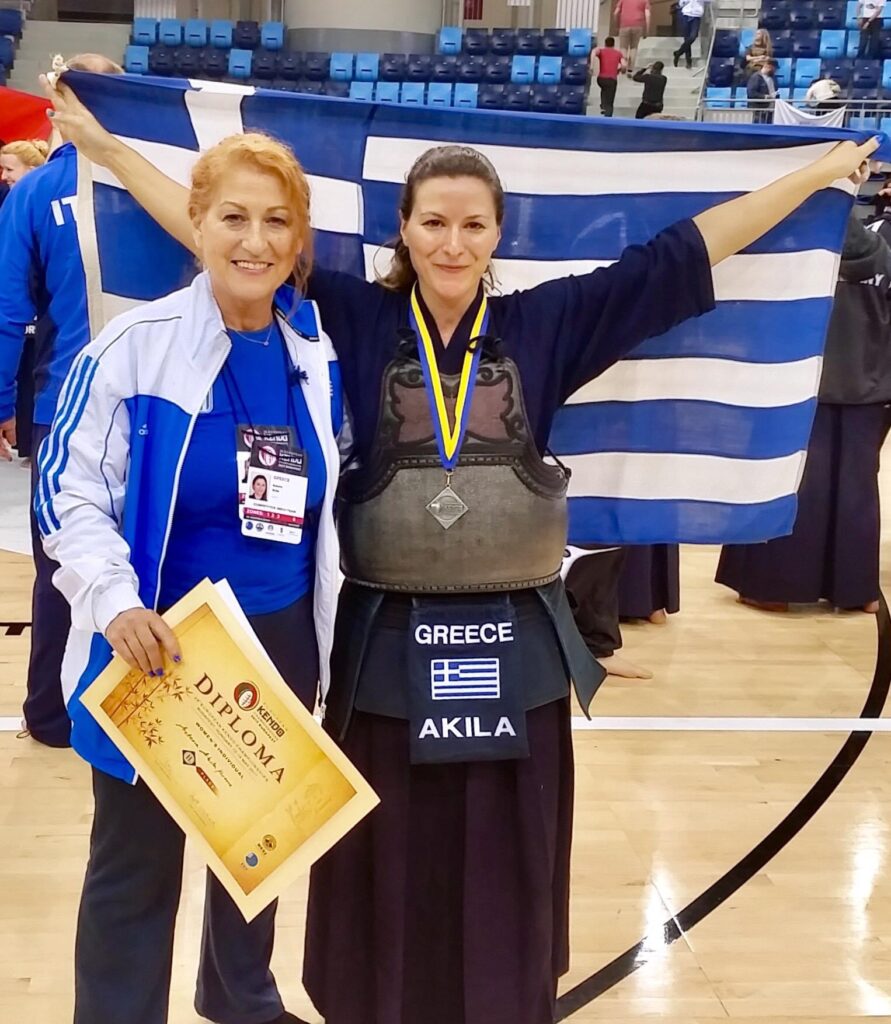 What are you proud of in kendo?
I am proud of the things I have achieved so far especially as it has not been easy. There was so much doubt in the beginning being a kenshi in a small country with very few practitioners and not much experience or background in kendo. I am proud to be the first one from my country to achieve success in the European and World Championships and other competitions in Europe. I have worked very hard for this and I only ever had the support of my parents and my dojo. If I can be an inspiration for someone in my country I would be very proud of that too. Also the things I remember most vividly and what has made me most happy and proud in kendo is winning the national championship with my dojo. The team effort and the joy after winning because we made it happen as a team is the most rewarding thing in kendo competitions, the fact that we have made our teammates and our coach proud is incomparable. I am proud to be in the best dojo of my country

What do you do in your daily work?
I am working in my family company that produces Greek products such as vinegar. I work in the marketing division. I am also working on my thesis for my degree of physical education and sports science.

What are your future goals in kendo?
My future goals in kendo are to achieve more success in important competitions, I want to keep fighting and become better in kendo, as much as I can. In the far future I would be interested in refereeing but I find it a very difficult and serious task that needs further practice and a lot of responsibility.
Do you have any kenshi whom you look up to as your goal (target) and why?
I have many kenshi that I look up to, most of them are competitors of the generation before me. When I started kendo and I was looking through videos my first role models were Miyazaki sensei and Eiga sensei, I admired a lot of their speed and intelligence in their shiai. Then I started going to the European kendo championships and I saw up close a lot of powerful kenshi that I looked up to and used as examples for my goals. There are so many female and male kenshi that I admire all over Europe and the world and always my goal in my competitive journey was to become strong so one day I will be able to face them in the competition and learn from them first hand, despite the result. Teramoto sensei is also one kenshi that I look up to because his kendo combines the speed, intelligence and top level technique and I think this is very admirable. My goal would be one day to be as skilled as all those kenshi I admired through the years and as determined and a good leader as my mother is who is my biggest influence in kendo.
Asteria Akila選手の記事は、剣道日本8月号に掲載しています。
This interview can be found in the August 2021 issue of Kendo Nippon!